Ever think of you blog as a community? If not, it's time for a change. The biggest lesson I learned at the Altitude Design Summit is that "there is no 'I' in 'my blog.'" Alt picked a wonderful panel to for its lecture on "Growing Your Community," spanning from wedding to fine art bloggers. Each of the panelists have blogs on which you could literally spend hours: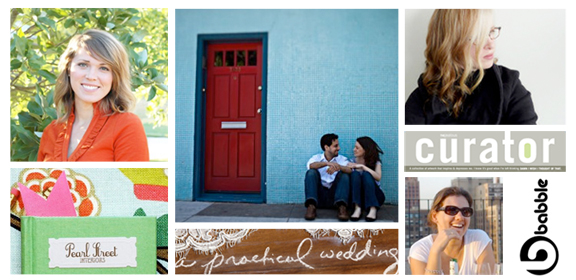 Jenny, Little Green Notebook |  Meg, A Practical Wedding |  Danielle, The Jealous Curator |  Sarah, Babble
The one thing all of these successful bloggers have in common is the underlying belief that if you want a readership, you have to provide content people will keep coming back for. This is the best way to grow your blog–by growing community interest.
Now keep in mind that blog communities don't necessarily pop up over night. Some bloggers are around for years before people find them. So, how do you get started?
1) With intention: Treat readers like a community so they become one.
Survey your reader demographic. Understand your readers: Who are they? What content do they love? When do they read blogs? How often do they want posts?
Allow users to help you in the form of guest posts, user spotlights, forum discussions, and more.
2) Figure out where similar readers are and hang out there (show chart)

Find complimentary blogs: Decorating a house + Design lovers + Getting married.
Make comments (tweets count!).
Find ways to network online.
Network with bigger bloggers. Email them. Never underestimate the power of a personal email!
3)  With regular content:
Deliver daily bread: Give your readers something to come back for.
Voice your own opinion, don't just echo what other people are saying.
Superlative original content
Find a solution to a common problem (i.e. solve a common problem your users may have, create a how to or d.i.y.)
Start a conversation that other bloggers want to continue

Jenny from A Little Green Notebook suggests that you treat your blog posting as a bank account, and your posts as deposits and withdrawals, try your hardest to keep a positive balance on the account. One example: a post with 100% original content would be a major deposit while a paid sponsor post would be a withdrawal. That doesn't mean you can't write paid sponsor posts, just make sure you don't withdraw too much from your community or they'll start to move across town.
So start thinking today: How can my blog become more community-oriented. No matter how little or well-established you are, I guarantee there's room for improvement. – Ali