A few years ago Facebook reached a point where it was time to allow users to have Facebook usernames attached to their profiles. It was an easy way for people to reserve a URL for their personal profile so to allow for an easier exchange. For example, rather than a long URL to get to your Facebook profile, it would be facebook.com/amariotti. The initial release of this was huge, because people were so excited to reserve that special name!
Shortly after this the feature was rolled out for Facebook pages. This enabled companies to get their shortened URL for people to find them easily on Facebook. This makes it a lot easier to find companies on Facebook by just guessing on what their official page would be, for example, facebook.com/coke or facebook.com/google.
The next question is, "how do I reserve my username for my company?" Don't worry, it's easier than you think. The only requirement is that you need 25 (or more) "like's" on your site before you can qualify. Until then there will be a message saying that you have to get those like's first before enabling this feature. Once you've reached that point log in to your Facebook account that has admin access to the page you'd like to create a username for.
Then visit facebook.com/username.
There you will see a dropdown menu with a list of all of the pages on your account.

Select the one that you want to create a username for and enter your username in the field.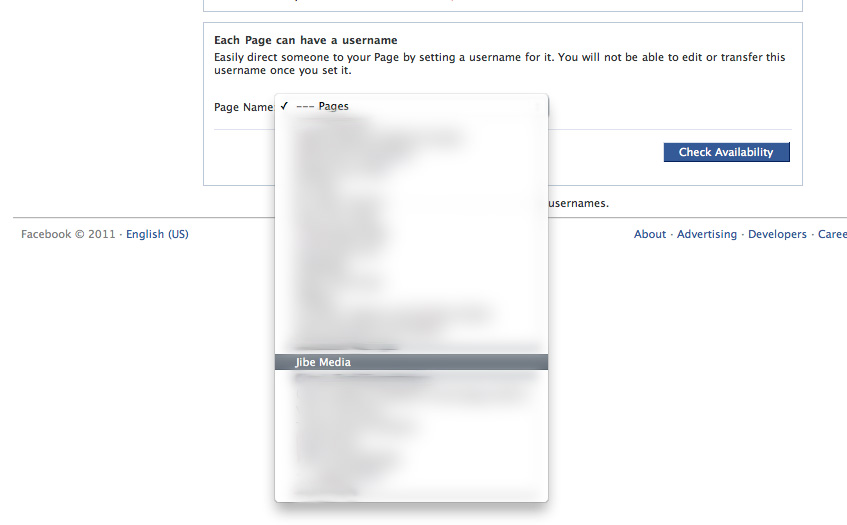 CAUTION: Double check the spelling, because you can't change it once you have clicked the submit button.
Follow the on screen instructions.
From that point on your new page will be available at your new URL, and that's it! Enjoy your new shortened URL!

Leave your Facebook URL in the comments and we'll come check it out!