I love a good ugly selfie. You know, the photos that you take of yourself and send to friends in hopes of receiving a "Bhahaha," laughing/crying face emoji, "LOL," or even better—an equally ugly photo back. The thing is though, photos live on. Once you send or post, it's up there, it's out there, it's live. Unless of course, you "Snap" it.
If you're not familiar with the real-time photo/video chatting app, here's a basic rundown. And for those of you that are familiar with the social app, you're probably not familiar with Snapchat's latest feature—"Stories" that are viewable to all your friends (or everyone if you've selected that setting) for 24 hours. This goes against one of Snapchat's defining characteristics—that you've only got 10 seconds (max) to view a photo or video sent from a friend.
The Stories, which are a compilation of various photos and videos you choose to add, are viewable for a full 24 hours before they self-destruct. In essence, you now have a self-destructing social feed, or timeline if you will. Yet, with Stories everything is real-time, unlike many posts on Facebook or Instagram. This combats the idea of digital dualism (the idea that our online lives are different, better, and more exciting from our real lives) since photos and videos can only be taken within the app itself and cannot be stored or saved to post later. This forces users to upload only what they're doing right then and there.
To introduce this new feature, Team Snapchat sent a snap to all users. I received a Snap at 4:30 a.m. on Thursday morning. After I opened it, I was genuinely confused. It was a 40-second, high quality video set to music (this is the "Snap" I received). First thought: What is happening? Second thought: That was cool. Third thought: So it begins—advertising plans just hit Pinterest and Instagram, so why not Snapchat?
At the end of the commercial, err, Snap, I returned to my Snapchat inbox. But instead of that Snap saying "Opened," it read, "Double tap to Listen!" So, of course I double tapped to explore further, and where was I taken? None other than to the iTunes artist page for the band, Guards. The Snap that I received was one of three. All three Snaps featured local LA bands and directed users to their respective iTunes pages. You can watch the other two Snaps here—one from Smallpools and the other from Goldroom.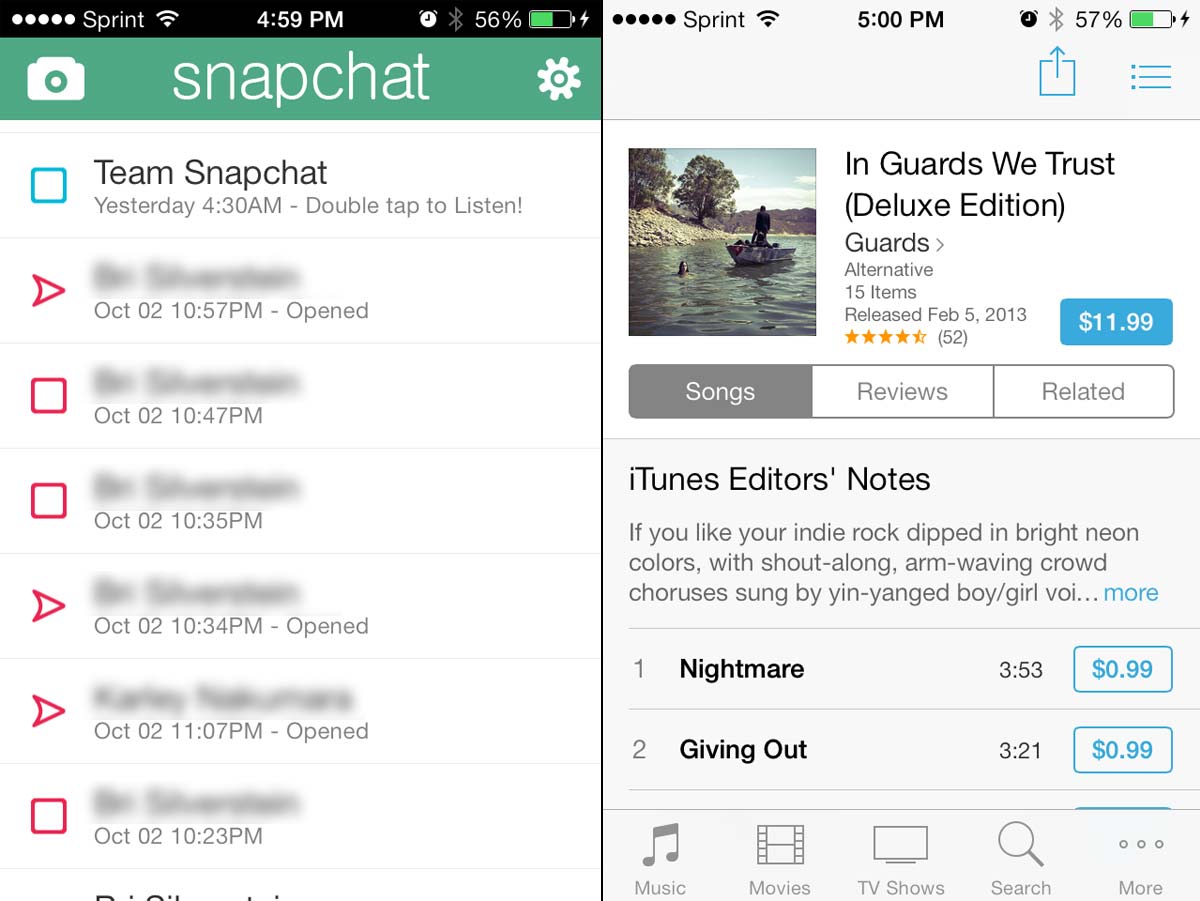 Snapchat founder and CEO Evan Spiegel stated that it's not a big step towards monetization, but rather "just a little experiment." Well, this "experiment" seems pretty monetized to me—Snapchat basically just got ads. But, to be honest, I kind of liked it. Snapchat just showed us how to use their new, ephemeral Stories feature in a creative, fun, and inspiring way, while subtly promoting a product. Yet, I didn't feel sold to. I'm smart enough to recognize monetization when I see it, but if Snapchat is able to maintain these types of engaging, noninvasive Snap-ads, it is on its way to becoming a powerful and revolutionary advertising medium.