We have some really great clients at Jibe. Even with all the craziness that inevitably happens at an ad agency, we are pretty lucky. One of the real sweet spots, however, is the Granite Education Foundation – a kind group of people who are committed to improving educational opportunities for students in the Granite School District.
As we have partnered with the foundation this year, we've worked with them to develop several of the campaign components for their upcoming fundraising gala. The theme of this year's event is "Paint. Passion. Purpose." The entertainment for the evening will be David Garibaldi. David was on "America's Got Talent" for his amazing skills that combined paint, dance and music. I am SO excited to see him perform!
Because David's work will be such a big part of the event, the paint splatter theme has become the main design element in the promotional materials. We've created the invitation, program, display banners and additional collateral materials. I know our designers have had a lot of fun bringing this all to life, especially being able to use so much color.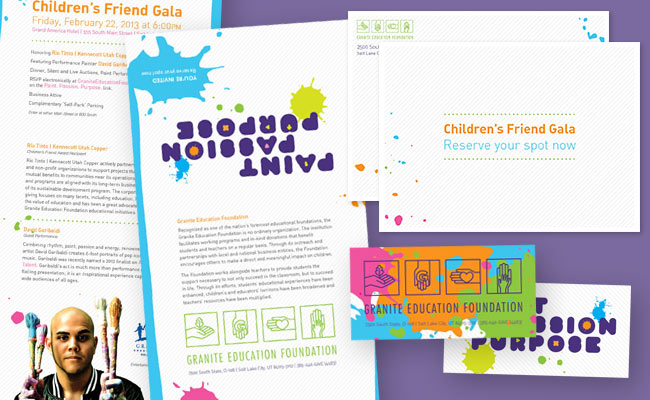 In preparation for the event, we got to spend a day in a Woodrow Wilson Elementary School filming a video about the mission and values of the foundation. These kids were so sweet, and loved being in a "movie." It made me really wish I had more gym and library time scheduled into my day. I was honestly brought to tears a few times as I watched their interactions with their teachers, and saw how much they looked up to them. There was one teacher who lived in a Hawaii for a few years and pulled out her ukulele so the kids could sing along with her to practice the months of the year. These teachers are truly incredible people.
The Granite Education Foundation raises money for the components of children's education that the school district's funds can't cover – from glasses, shoes and scholarships to programs, advocacy and grants for teachers. It's no wonder we enjoy working with them as much as we do—the foundation has a much greater purpose, so all involved bring a passion to their work that is completely infectious.
Check out what "Paint. Passion. Purpose." is all about. If any individuals or businesses are interested in attending or sponsoring the Children's Friend Gala on February 22nd, more information can be found here.