Anyone who is part of the design and advertising world has their favorite types of projects to work on. Some prefer to build a new brand identity from the ground up; others prefer to design and program a responsive website. We recently got to do both and much more for one of our great clients, Newvo Homes.
Newvo Homes is a real estate brokerage that focuses exclusively on the new-build market in Utah. Over the course of several months, we developed a full brand identity, including a company name, logo and graphic elements, an animated motion graphic video, and a simple but powerful responsive website that provides users streamlined access to a massive database of all Utah homebuilders.
The main touchpoint of Newvo's visual identity is its logo—the hero of which is the bold monogram. Because Newvo specializes in new-build homes, it only seemed appropriate that the mark referenced housing structures found in blueprint drawings. At the same time, we found a clever and subtle way incorporate Newvo's initial N, creating a fun and memorable symbol for the brand. The type has been customized from an existing font to match the aesthetic of the mark. The heavy, all lowercase letters are both readable and approachable, reflecting the brand's goal of assisting clients in finding their perfect dream home.
Once we finalized the logo, we were free to design the rest of Newvo's materials, including an extensive style guide outlining the usage of the brand's elements, a fully responsive website, a motion graphic video illustrating the company's concept, and some really slick business cards.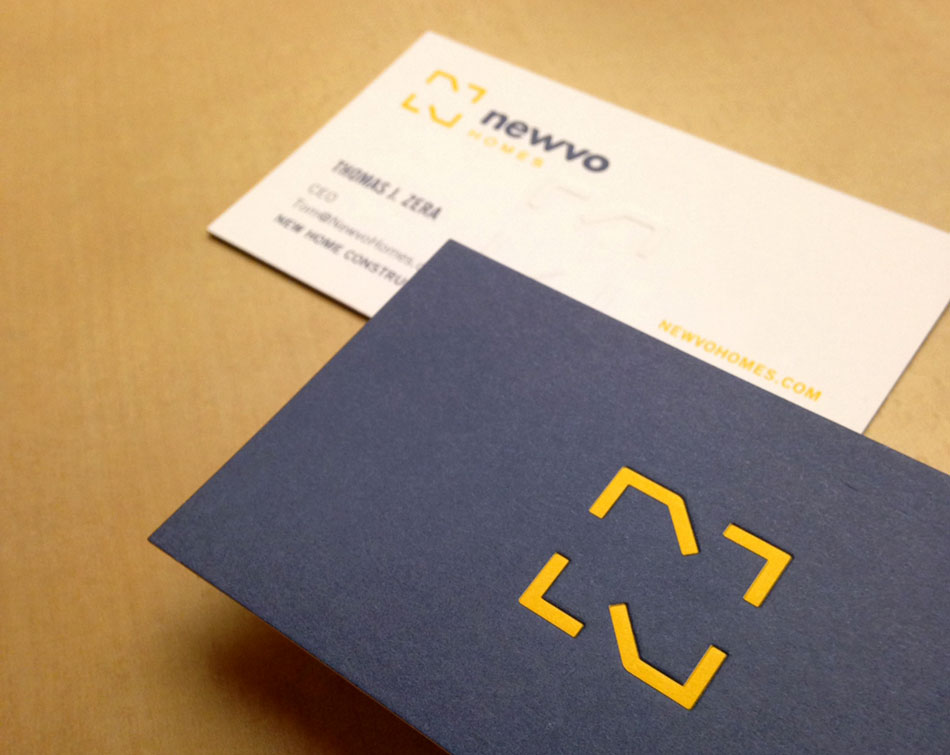 The Newvo Homes business cards were printed with 2 spot colors on heavy 130 point uncoated paper. The real finishing touch though is the deep deboss of the golden N mark, which shows through the backside of the card as an unprinted emboss. This provides a beautiful tactile quality to the card, which is fairly uncommon and helps the brand exude a sense of style and professionalism.
To see the rest of our work for Newvo Homes, visit our work page. To view their website or to search for homes in your area, visit NewvoHomes.com.