I've got this list…it's an ever-growing list of projects I want to get done one day or another. Every time I jump on the computer somehow the list keeps growing; making it nearly impossible for my little brain to keep up with everything wonderful I take in. It's a good day when I actually remember what that thing was that I saw or read.
With the network of design blogs out there accompanied by Twitter's ability to keep me up to date with that community, I get the coolest of the coolest flashing on my screen every time I will it.
Once upon a time in a effort to reduce the post-it clutter on my desktop (the kind that manages to crawl it's way up around the computer screen) I created a blog. It was a blog about "living inspired;" a place where I could collect and record inspiring images and projects from all over, and maybe, just maybe, keeping the records would encourage me to start some projects of my own.
I still find myself losing post-it notes, forgetting things, not starting projects I want to, and getting lost in a sea of wants, ideas and images. However, when I want to, I have the resources at my fingertips whenever I need a push.
It is my opinion that being inspired reduces stress levels, produces endorphins, therefore improving moods. I also think sharing does the same thing. So, from my computer desktop to yours, here's a gift of inspiration. Hopefully it works as well for you as it does for me. Enjoy.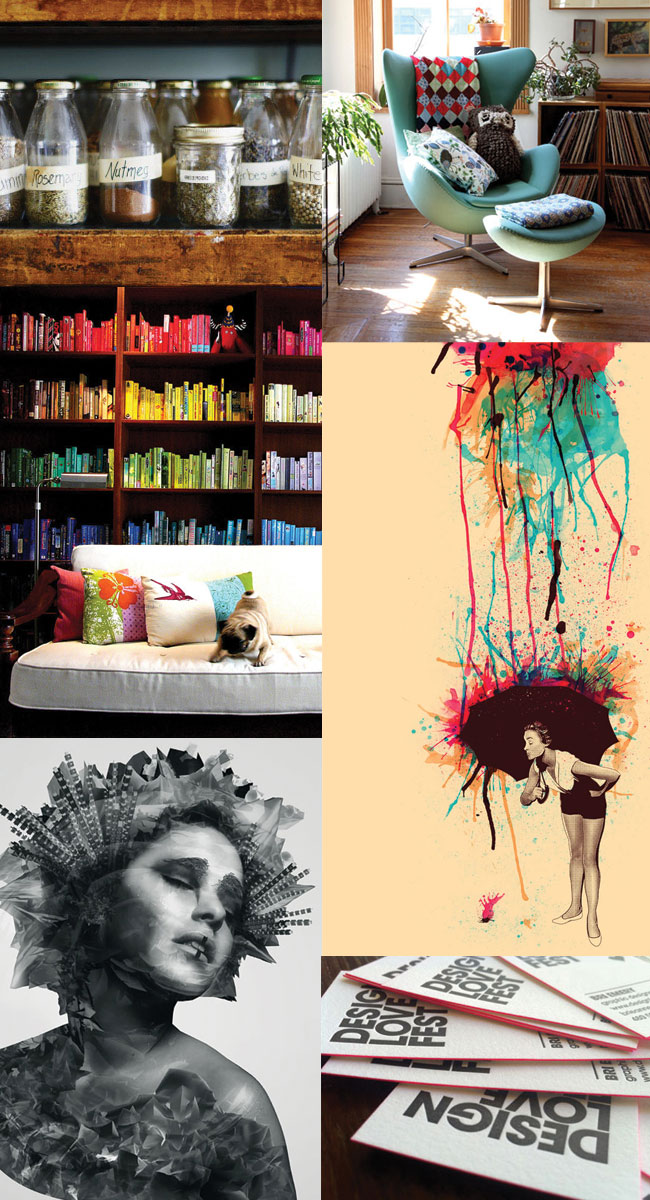 Right to left, top to bottom: singing violin player, homemade ground spices, cozy library, books organized by color, paint splattered umbrella, head sprouting city, letterpress printing with bright colored edges